What we offer...
Custom Application Development
We have an experienced and highly trained team of project managers, software engineers, GIS developers, and database admins ready to design and deliver a custom software solution uniquely suited for your organization.
Strategic Assessment
and Consultation
Do you have more questions than answers? DataScout Consulting is here to help by listening to your needs, assessing your goals, and developing a complete project plan to tackle even the most daunting challenges.
Extended Maintenance
and Training
Once the project is complete, DataScout can arrange long-term maintenance for delivered solutions or provide your team with the technical documentation and training needed for in-house upkeep.
Our approach...
1) Discover
Identify and interview key stakeholders.
Gather requirements and define key deliverables.
2) Design
Connect the dots and present an end to end solution for your consideration.
Utilize your continued feedback to finalize project details.
3) Develop
Mobilize the full DataScout team assigned to build the solution.
Monitor for previously unseen risks or opportunities.
Thoroughly test the product before delivery.
4) Deliver
Assist in deployment and ensure all deliverables function as planned.
Negotiate optional extended maintenance or execute our exit strategy.
Our Work
Engaging with multiple state agencies, education institutions as well as county and local officials, DataScout developed a comprehensive web application designed to organize, manage, document and store fire service information in a central location.
Decades of data collected via various methods including spreadsheets, paper forms and a range of database types were cleaned and consolidated to provide the public with a comprehensive view of fire services in their area.
Data analysis is presented in an easily digestible format through our GIS overlays, providing state agencies with a comprehensive view of their previous support actions and total funding across agencies on a fire district or county-wide level.
ACT 833
ACT 833 funding is the primary source of financial aid for fire protection services. DataScout converted this critical process to an online application with customized views for each user according to their role and data access needs. Users can instantly communicate approvals or rejections, and revisions can quickly be returned to the appropriate party on the application's path to approval.
This application provides the Arkansas Department of Emergency Management (ADEM) critical insight into each fire department's capabilities and finances. DataScout was able to interface directly with the Arkansas Department of Finance and Administration to auto-fill each fire department's previous financial data, ensuring accuracy for each applicant. Now, the updating of equipment, bank statements and receipts, station rosters and contact information is available online to all chiefs and county coordinators in the state utilizing the Fire Services Directory.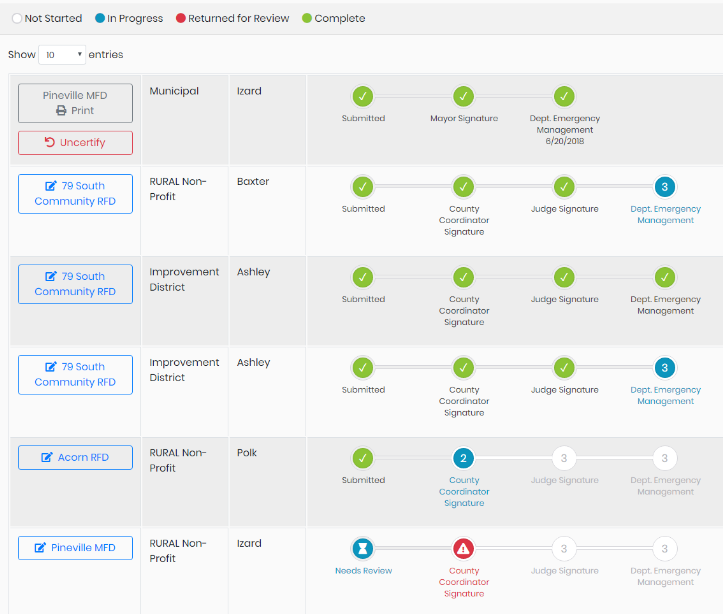 An admin's dashboard summarizing department applications in process